Chinatown is a unique neighborhood in that it is more than simply a collection of restaurants, shops and homes. It is a rich cultural experience, and a visitor to Chicago's Chinatown has the distinct feeling of having touched upon a microcosm of China itself.
Shopping
Shops in Chinatown are numerous; almost all of them carry similar goods, yet the goods themselves span the spectrum from gifts to clothing to housewares. Walking into any of these shops, a visitor will find bamboo and money plants, child-sized Chinese outfits, painted ceramic pottery of every shape and size, embroidered fans, chimes, Buddha statues and dozens of knick-knacks that are perfect for souvenirs.
Some gift shops with good selection are Chinese Boutique, World Treasures Emporium and Happy Gift. For jade and fine jewelry try Dor Fook Jewelry. Ching Wei Oriental Furniture Showroom has authentic Chinese furniture and a selection of gifts as well; the goods at this store are of especially high quality.
Restaurants
Restaurants in Chinatown serve almost every type of Southeast and Far East Asian cuisine. The first immigrants to Chinatown opened restaurants, and some of these are still around; in this neighborhood, food is taken very seriously and there is something for everyone.
For general Chinese food, try Three Happiness, Phoenix or Dragon Court Restaurant. Several restaurants boast cuisine of a specific country; Penang serves Malaysian fare, Hing Kee Restaurant, and The Noodle both serve Vietnamese and The Moon Palace Restaurant serves Mandarin meals. You can try Pan Asian dishes at Joy Yee's Noodle Shop and Szechuan at Lao Sze Chuan. Sakura Sushi is the place to go for sushi, while BBQ King Restaurant specializes in an eat-in or takeaway barbecue. Finish your evening at Tea Leaf Café, which is known around Chinatown for bubble tea, coffee, and snacks.
CHINATOWN NEIGHBORHOOD MAP
Chinatown is located south of the Printer's Row and Museum Campus areas. The heart of Chinatown is the corner of Wentworth Avenue and Cermak Road, also the key spot for the annual Chinese New Year parade along Wentworth Avenue. This crowded area bustles with activity and, of course, highlights are the oriental cuisine and markets.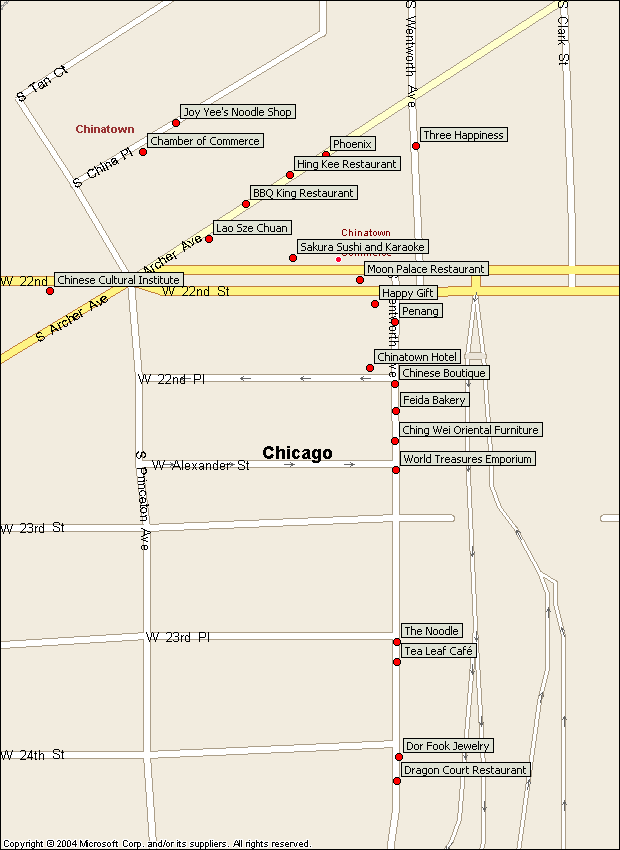 Community
Homes in Chinatown are generally old, although there are some newer developments as well. The inhabitants are largely Chinese immigrants; many of them move away from Chinatown as they become more established, while some remain in the area for a longer period.
What makes Chinatown so valuable to its inhabitants is the strong sense of community; for Chinese individuals in the neighborhood, it is what connects them to China itself. There are several organizations in place that work towards preserving a tightly knit community. The Chinese Softball League of Chicago, for example, organizes a summer softball league. The Chicago Chinese Cultural Institute promotes social and cultural events, while the Chicago Chinatown Chamber of Commerce helps promote small businesses in the area. There are the Asian Social Network and MatchAsian.com, both of which help ensure that the next generation of Asians remains as community-based as the present one.
The people of Chinatown work not only to preserve their culture but to celebrate it as well. Festivals occur in Chinatown year-round; there is the Chinese Autumn Moon Festival, held annually, to celebrate the day when the moon is the brightest. The Chinese follow a lunar calendar, so the date of this celebration changes from year to year. Although the Moon Festival does feature food, live music and performances, the most notable aspect of this festival is the décor; huge lanterns light up the night, reminiscent of the bright moon itself. The Chinatown Summer Fair is another annually held festival, featuring food, live music, cultural dances and performances and even a Lion Dance Procession. Another traditional event is the Dragon Boat Race for Literacy, held on the Chicago River. You can watch the race as you enjoy food, live music, crafts booths and other cultural activities. Also held in autumn is the Double Ten Parade; this is the primary Chinatown parade, celebrating Chinese Independence with floats, marchers and of course an immense Mystical Dragon. When people think of Chinatown, it is this dragon and this parade that typify the neighborhood; the parade is so popular that it has become symbolic of Chinese culture in Chicago.
History
Chinese history in this country has been marked by prejudice and persecution; on the west coast, where Chinese immigrants first clustered upon arriving in America, this ill-treatment was especially harsh. Thus many Chinese families began to seek a better life further east. The completion of the transcontinental railroad in 1870 was significant in that it brought many Chinese immigrants to Chicago.
Towards the end of the 1870s, the Chinese population in America had grown significantly; in 1890, there were over 500 Chinese individuals in Chicago. Many of them opened small businesses such as restaurants, shops and laundry establishments. In the 1950s and '60s, the Chinese population in Chicago doubled from 7000 to 14000. This was largely due to adverse conditions in China at this time; Chinese families sought a better life abroad. The increase in immigration was also due to improved relations between China and America.
Today's Chinatown, centering around Cermak Rd. and Wentworth Ave., was established in 1905. Since that point, many Chinese immigrants have moved into the area. There are organizations such as the Chinese American Service League, the Chinatown Redevelopment Association, and the Chinese Consolidated Benevolent Association that work towards providing new immigrants with proper housing and jobs. In 2000, there were 68,021 Chinese people living in the neighborhood, and the numbers are growing every day. Chinatown is bounded by 18th Street on the north, 23rd Street on the south, State Street on the east, and the Chicago River on the west.
Summary
Today, Chinatown is a draw for locals as well as tourists. Chinese individuals from around the city visit Chinatown for groceries, food, newspapers, and of course a touch of home. Nowhere else can they find the selection of Chinese medicine shops, traditional services, and genuine Chinese food. Tourists who visit Chinatown are also drawn in; they are given a unique chance to learn about Chinese culture while partaking of the goods and foods that make Chinatown such a pleasurable experience.