Lakeview is one of the city's most livable and walkable areas. It is home to many smaller neighborhoods, including Lakeshore East, West Lakeview, Roscoe Village, Graceland West, Southeast Ravenswood, Belmont Harbor and Wrigleyville, home of the Chicago Cubs. Lakeview neighborhood residents enjoy the charm and beauty of tree-lined streets and Lake Michigan, just minutes from the bustle of downtown Chicago, a short commute on Lake Shore Drive.
Located just north of downtown Chicago, the area known as Lake View is surrounded by gleaming skyscrapers and the shimmering waters of Lake Michigan. The community is roughly bordered by Grace Street to the north, Diversey Avenue to the south, Lake Michigan on the east and Racine Avenue on the west.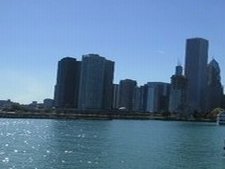 Lakeview's two neighborhoods — Central Lakeview and Lakeview East — are home to more than 65,000 residents who enjoy a unique blend of retail areas, restaurants, affordable housing, and recreational activities. The community is located near Chicago's "Off-Loop" theater, fashionable shopping districts and world-class entertainment venues. The real estate market offers something for everyone, with both traditional and innovative architectural designs.
Students in Lakeview attend classes in Chicago Public Schools, the third-largest school system in the United States and second-largest employer in Illinois.
Many of Chicago's neighborhoods have one or two commercial zones, which makes it relatively easy to zero in on what makes them potentially attractive for visitors.
Lakeview, even spinning off two of its essential areas — Wrigleyville and Boystown — has all kinds of zones, commercial and otherwise, each with its own appeal.
That makes seeing it all something of a logistical challenge. The most efficient way to enjoy the neighborhood, then, is to pick a specific attraction and check out what's within rational walking distance.
Example: No other community's section of Lincoln Park and the lakefront has a totem pole. It's on the east (lake) side of Lake Shore Drive at Addison Street and, yes, it's a real one, imported from western Canada. It's near the Sydney R. Marovitz Golf Course, a nine-hole challenge along Lake Michigan, up the shoreline from lovely Belmont Harbor and across the Drive from Temple Sholom (1928), largest Reform Jewish congregation in Illinois.
And everything there is only a few blocks east of Wrigley Field (Wrigleyville neighborhood).
So enjoy that part of the neighborhood and don't worry about, say, rushing over to take in the masterwork that is St. Alphonsus Church. Not right away. (No one said these choices would be easy.)
Completed in 1896 by and for its then-German parish at Southport and Wellington Avenues just off Lincoln Avenue, masses are still celebrated in German, as well as in Spanish and English. The church's interior is notable for its exquisite white-marble altar, its mosaics and its stained glass, imported from Germany.
Next door is the Athenaeum Theater (1911), formerly a school and community center complete with bowling alleys and now host to a variety of live performances. Nearby along Lincoln Avenue is A La Turka (kebabs and, on weekends, belly dancers) and other ethnic eats. For refreshment, Lincoln Tap Room is an old bar that — like much of this neighborhood — manages to be retro (a giant Hamm's bear above the bar) and trendy (DJs, open mic nights) at the same time.
Not so nearby but still on Lincoln and walkable (with the right shoes) are a couple of longtime Chicago Lincoln Avenue institutions, Dinkel's Bakery (owned by the same family since 1922); and Paulina Meat Market (1949), just off Lincoln, which is worth visiting just to inhale the intoxicating aroma of its sausages, made in more varieties than you knew existed.
Heading east — and yes, this would be a serious hike from those wursts — the block and a half of Belmont Avenue between Sheffield Avenue and Clark Street, still Lakeview, is a different world representing different worlds. Downstairs from the Belmont 'L' station that serves the Red, Brown and Purple Lines are the following: two Thai restaurants, a Swedish diner, a 24-hour diner, a pizza place, a Mexican place, an Indian place, a Middle Eastern place, a Philly place and a Japanese notions store.
Also right there is Berlin, an interesting night spot for lovers of interesting night spots; and around the corner on Sheffield, the Vic Theater (1912), a concert venue and sometime movie house. West of Sheffield and an easy walk are still more restaurants and the Theatre Building, a multistage complex that's been home to live theater for more than 30 years.
South of Belmont on Broadway are more restaurants, including Oscar Wilde, which doubles as a pub; the Bagel, a Jewish-style deli with walls covered with posters from Broadway (the New York Broadway) musicals; plus Chinese, Japanese, Vietnamese, Thai, Middle Eastern, Greek, Mexican, pizza — and three Chicago originals, the first Intelligentsia Coffee, Pastoral (artisan cheeses and breads) and Bobtail, the ice cream store.
South of Belmont on Clark Street to Diversey are still more restaurants, few of them conventional. La Creperie has been making its Breton-style filled egg-skins since 1972. The Duke of Perth lists more than 70 single-malt whiskies on its card, plus pub standards from the kitchen.
If the Duke isn't Celtic enough for you, head to Ginger's Ale House, back on Ashland, and hoist a pint of Murphy's while cursing whoever is beating your soccer team on one of the tellies. North of Ginger's is more variety: Machu Picchu (Peruvian) and Cy's Crab House (crabs, of course — and other seafood.)
Which brings us to a symbol of this neighborhood even mightier than the totem pole.
Parts of castle-like Lake View High School, on Ashland Avenue at Irving Park Road, date to 1886. (A fire leveled the original building in 1884.) Its alumni include film star Gloria Swanson, who made early silents at Chicago's Essanay Studios (Uptown neighborhood); and ventriloquist Edgar Bergen, and by extension, his carved co-stars Charlie McCarthy and Mortimer Snerd, who would've flopped in movies if it weren't for talkies.
Considering the neighborhood, all were very likely Cub fans, including the dummies. White Sox fans are free to provide a punch-line here.
Wrigley Field
Wrigley Field, home of the Chicago Cubs, is also located here, and a section of the neighborhood is named after it. The numerous bars and restaurants are always packed, especially during baseball season, when thousands of fans are fed and entertained. Lakeview's Wrigleyville neighborhood is bounded by Halsted, Ashland, Roscoe, and Byron. On the east side alone, there are over 600 retail stores, and Diversey, Clark, Halsted, and Broadway have seen significant commercial development. The gay district of Chicago is located in Lakeview East, also known as "Boy's Town." Alternative lifestyles are celebrated and embraced by the diverse population.
Shopping
The nice surprise of Lakeview and Wrigleyville is that once you walk 20 steps away from the main shopping, restaurant, and bar/club areas, you'll find yourself in beautifully maintained tree-lined streets with rows of delightful houses in all fashion of architectural styles, ages ranging from nearly a century to 3 days ago. This is most likely the other main reason for the area's prominence; one can buy or rent a beautiful house on a beautiful street, then walk 5 minutes to one of the city's most popular shopping/nightlife districts.
Accessories, Shoes and Jewelry in the Southport Corridor
Add to any outfit with accessories, jewelry, and shoes from boutiques on Southport Avenue, such as Bourdage Pearls (3530 N. Southport Ave.), M2 Boutique (3527 N. Southport Ave.), and Click (3729 N. Southport Ave.).
3530 N. Southport Ave.
Boutiques for Moms and Tots in the Southport Corridor
Stylish moms can dress their babies and themselves on Southport Avenue, at stores like Krista K Maternity + Baby (3530 N. Southport Ave.), Baby Dolls Boutique (3727 N. Southport Ave.), and Petite Feet (3715 N. Southport Ave.).
3715 N. Southport Ave.
Chicago Music Exchange
Musical Instruments and Teachers
Chicago Music Exchange is a large musical instrument shop with seemingly endless rows of new and vintage guitars, which customers may try out as they please.
3316 N. Lincoln Ave. | 773.525.7773
East Lakeview Shopping on North Broadway
Shopping options on North Broadway are vast, with stores such as Reckless Records (3126 N. Broadway), which specializes in independently produced records as well as old favorites; the locally-owned destination bike shop Johnny Sprockets (3001 N. Broadway); the retail store of the well known web-based t-shirt retailer Threadless (3011 N. Broadway); and the children's apparel of Cram for Kids (3343 N. Broadway) featuring baby clothes, toys and gifts. Accessibility limitations at some sites. Please contact sites for more information.
3126 N. Broadway
Gramaphone Records
Great for DJs or avid vinyl collectors, Gramaphone Records has been around since 1969. Though they specialize in dance classics and house records, and have one of the largest selections of techno, drum and bass, and dubstep in Chicago, they also have a great selection of other genres.
2843 N. Clark St. | 773.472.3683
Jazz'e Junque Inc.
The reigning champion in Chicago for collectible cookie jars, Jazz'e Junque also houses a Retro Kitchen Museum that features kitchenware artifacts from yesteryear. In addition, they have a great selection of unique salt and pepper shakers, teapots, toys, and more. Accessibility limitations.
3419 N. Lincoln Ave. | 773.472.6450
Rotofugi
Rotofugi, one of the world's premier sellers of designer toys, features a diverse selection of vinyl figures, capsule toys, plush and more from Eastern and Western designers.
2780 N. Lincoln Ave. | 312.868.3308
Uncle Fun & Paper Boy
"A unique purveyor of fine goods and accessories designed to restore the whimsical nature with which you arrived on this planet," Uncle Fun (1338 W. Belmont) is a one-of-a-kind toy store that has been around for over two decades. Located across the street and owned by the same team as Uncle Fun, Paper Boy (1351 W. Belmont Ave.) is filled with all sorts of paper-related goods, such as stationery, gift wrap, origami paper, writing utensils and more.
1338 W. Belmont Ave.
Unique Shops near Clark Street and Belmont Avenue
The area around Belmont Avenue and Clark Street is dense with unique shops of many varieties. Among these are: THINK SMALL by Rosebud (3209 N. Clark St.), which is a dollhouse lovers dream come true; the independent comics–focused Chicago Comics [www.chicagocomics.com] (3244 N. Clark St.); The Gallery Bookstore Ltd. (923 W. Belmont Ave), specializing in rare books since 1927; and Robot City Workshop (3226 N. Sheffield Ave.), where robot aficionados will find everything they need. Accessibility limitations at some sites. Please contact sites for more information.
3209 N. Clark St.
Women's Fashion Boutiques in the Southport Corridor
Southport Corridor is known for women's boutiques, including Perchance (3512 N. Southport Ave.), Krista K (3458 N. Southport Ave.), Leahey & Ladue Consignment (3753 N. Southport Ave.), Tula Boutique (3738 N. Southport), Mint Julep (3709 N. Southport Ave.), She One (3402 N. Southport Ave.), and Francesca's Collections (3539 N. Southport Ave.). Accessibility limitations at some sites.
3738 N. Southport Ave.
Attractions
Bill Jarvis Migratory Bird Sanctuary (in Lincoln Park)
Bill Jarvis Migratory Bird Sanctuary offers eight acres of dedicated bird habitat in Lincoln Park, just east of the totem pole near Addison Street.
Free Admission | East of 3400 N. Lake Shore Dr. in Lincoln Park | 312.742.PLAY (7529)
Blue Man Group
Blue Man Group is a wildly popular entertainment phenomenon, currently in an open-ended run at Chicago's Briar Street Theatre, that is a unique and thrilling multi-sensory experience fusing innovative theatrical spectacle, powerful original music, and hilarious comedy, art, vaudeville and science.
3133 N. Halsted St. | 773.348.3300
Brewster Apartments
Originally known as the "Lincoln Park Palace," this early high-rise, the Brewster Apartments, was built in 1893 by Enoch Hill, using the principles of skeleton-frame construction. Designated a Chicago Landmark in 1982, it is currently a condominium as well as home to local baker Red Hen Bread and Galway Bay Irish Pub.
Free Admission | 2800 N. Pine Grove Ave. | 773.281.6080
Center on Halsted
Cultural Centers,
Music,
Sports & Recreation,
Theater & Dance
Center on Halsted, the largest comprehensive center serving the LGBT community of Chicago.
Free Admission | 3656 N. Halsted St. | 773.472.6469
Chemically Imbalanced Theater
Chemically Imbalanced Theater is a small neighborhood theater that has shown improv, sketch comedy and theatrical comedy since 2000. The BYOB policy allows for an inexpensive night of fun and laughs.
1420 W. Irving Park Rd. | 773.865.7731
Chicago Photography Center
Rotating photography exhibits and courses in photography techniques make the Chicago Photography Center a haven for photo enthusiasts.
Free Admission | 3301 N. Lincoln Ave. | 773.549.1631
Chicago Tribute Markers of Distinction
Chicago Tribute Markers of Distinction commemorate notable Chicagoans by marking the places where they lived or worked. Since the program started in 1997, eighty markers have been placed across the city. This number will be increased to 100 markers placed by the end of 2009.
Free Admission | 78 E. Washington St. | 312.744.6630
Diversey Driving Range
Diversey Driving Range is arguably Chicagoland's most picturesque range. Located just off of Lake Shore Drive, the driving range also features an 18-hole miniature golf course where you can put your skills to the test while meandering through cascading waterfalls and footbridges.
141 W. Diversey Pkwy. | 312.742.7929
Elbo Room
The Elbo Room is a live music venue featuring diverse local and touring bands seven nights a week. Recent acts include Smoking Popes, Ratt and Joss Stone. Accessibility limitations.
2871 N. Lincoln Ave. | 773.549.5549
Former Home of Elizabeth Wood
The first executive director of the Chicago Housing Authority, Elizabeth Wood campaigned for a 'bold and comprehensive' rebuilding of public housing. During her tenure at the CHA, she oversaw the completion of 60,000 residences. She lived at 3145 North Cambridge Avenue. Selected as a Chicago Tribute Marker of Distinction.
Free Admission | 3145 N. Cambridge Ave.
Former Home of John Peter Altgeld
The 20th Governor of Illinois, John Peter Altgeld is best remembered for pardoning the remaining men convicted of the 1886 Haymarket Bombing. He was also responsible for writing the most strict child labor and workplace safety laws in the country. Altgeld lived at 504 West Diversey Parkway. Selected as a Chicago Tribute Marker of Distinction.
Free Admission | 504 W. Diversey Pkwy.
Former Home of Pearl M. Hart
Known as "The Guardian Angel of Chicago's Gay Community," and a staunch defender of immigrant rights, Pearl M. Hart was one of the first female attorneys in Chicago to practice criminal law. She lived at 2821 North Pine Grove Avenue for 25 years. Selected as a Chicago Tribute Marker of Distinction.
Free Admission | 2821 N. Pine Grove Ave.
Former Home of R. Buckminster Fuller
An architect and designer, R. Buckminster Fuller is best known as the inventor of the Geodesic Dome. He was also an early environmentalist, promoting energy efficiency in architecture and engineering. Fuller lived at 429 West Belmont Avenue. Selected as a Chicago Tribute Marker of Distinction.
Free Admission | 429 W. Belmont Ave.
Ginger's Ale House
Ranked as the best soccer bar in Chicago, and in the running for the best soccer bar in the nation, Ginger's Ale House serves all sorts of English and Irish beers and pub fare to go along with their showings of Premier League soccer and European Rugby matches.
Free Admission | 3801 N. Ashland Ave. | 773.348.2767
Hawthorne Place District
Unusually large lots and homes make this residential area, between 530 and 593 West Hawthorne Place, unique for its location on the Northside of Chicago. Architects Burnham & Root, Pond & Root and others designed many of the homes in this landmark residential area.
Free Admission | 530 W. Hawthorne Pl.
Kwanusila Totem Pole
Since 1929 the 40 foot Kwanusila totem pole has stood in Lincoln Park near Addison Street and Lake Shore Drive. The pole was donated to the city by cheese baron James L. Kraft, the founder of Kraft Foods. Tony Hunt, the chief of the Kwagu'ł tribe in British Columbia carved a replacement pole in 1986.
Free Admission | W. Addison St. & N. Lake Shore Dr.
Landmark Century Centre Cinema
Located in the Century Shopping Centre, this theater has stadium style seating and features independent and foreign made films.
2828 N. Clark St. | 773.509.4949
Metro
Metro is one of the country's most renowned independent concert venues. Established in July 1982, Metro has become a playground for new and developing local artists as well as showcasing the best cutting edge bands from around the globe for over twenty-five years.
3730 N. Clark St. | 773.549.0203
Music Box Theatre
Other Attractions,
Popular Attractions
The Music Box's retro neon sign, velvet seats, and twinkling stars and rolling clouds on the ceiling give the place a romantic vibe, making it a great venue for date night. This independently-owned movie theater is well known for its art house movies, classic movie matinees, and late-night showings of cult classics.
3733 N. Southport Ave. | 773.871.6607
Old Chicago Inn
A bed and breakfast housed in a quaint greystone building located at the epicenter of activity in Lakeview. With nine rooms to choose from you can find the lodging that works best for you and stay within walking distance of Wrigley Field, Boystown, and the abundance of shopping and restaurants in surrounding Lakeview. Accessibility limitations.
3222 N. Sheffield Ave. | 773.472.2278
Schubas/Harmony Grill
A family owned music venue, restaurant, and bar housed in a historic Schlitz sponsored saloon from the early 20th century, Schubas has hosted Chicago's favorite live music since 1988. Genres represented on their stage range from pop and country to Jazz and Indie rock. The restaurant at Schubas, called Harmony Grill, serves regional American favorites like their ever popular mac and cheese.
3159 N. Southport Ave. | 773.525.2508
St. Alphonsus Roman Catholic Church/Athenaeum Theatre
St. Alphonsus Roman Catholic Church [www.stalphonsuschgo.org] (1429 W. Wellington St.) built the Athenaeum Theatre [www.athenaeumtheatre.com] (1429 W. Wellington St.) in 1911 as a German community center. Today it hosts a wide variety of theatre and performances. A beautiful Gothic style church built in 1896, St. Alphonsus is now the only church in the city to perform mass in German.
1429 W. Wellington St.
Sydney R. Marovitz Golf Course
Sydney R. Marovitz ranks among the most challenging of the Chicago Park District courses with its tight greens, numerous bunkers and championship length. The course has 9 holes at par 36.
3600 N. Recreation Dr. | 312.245.0909
The Vic Theater/Brew & View at the Vic
Opened in 1912, the Vic Theater has hosted many famous live acts, from early vaudeville performances to current Indie rock bands, and continues to do so several times per week. On days when there is no concert, Brew & View takes over, showing old and new movies, with beverage service available.
3145 N. Sheffield Ave. | 773.472.0449
Theater on Belmont Avenue
Lakeview has a large number of theaters worth checking out, many of which are clustered on or near Belmont Avenue. Catch a show at Red Tape Theatre Company [www.redtapetheatre.org] (621 W. Belmont), Blueman Group/Briar St. Theatre [www.blueman.com] (3133 N. Halsted St.), Comedy Sportz Chicago [www.comedysportzchicago.com] (929 W. Belmont Ave.), Studio Be [www.studiobe.org] (3110 N. Sheffield Ave.), or the Theatre Building Chicago [www.theatrebuildingchicago.com] (1225 W. Belmont Ave.).
3133 N. Halsted St.
TimeLine Theatre Company
TimeLine Theatre Company presents stories inspired by history that connect with today's social and political issues. Accessibility limitations.
615 W. Wellington Ave. | 773.281.8463
Dining
Angel Food Bakery
Walls lined with a complete chronology of Easy Bake Ovens, this charming bakery and café offers many outstanding specialties, including the Airstream (a homemade Twinkie), Boston Cream cupcakes, S'Mores, and custom-made cakes. For those looking for something savory, Angel Food Bakery also has a small breakfast and lunch menu.
1636 W. Montrose Ave. | 773.728.1512
BYOB on Broadway
Bring a bottle of your favorite libation to accompany your meal at several BYOB restaurants along North Broadway including Pho & I: Vietnamese and Thai Kitchen (2932 N. Broadway), Mista Pizza (2929 N. Broadway), Hatsu Hana Japanese Restaurant (3136 N. Broadway), or Buena Vista Restaurant (3147 N. Broadway).
2932 N. Broadway
Bittersweet Pastry Shop & Café
Known for their excellent artisan-crafted French pastries and their delicious sweets, Bittersweet is a citywide favorite.
1114 W. Belmont Ave. | 773.929.1100
Cafes and Cheap Eats on West Irving Park Road
Enjoy a quality meal at the infamous Diner Grill (1635 W. Irving Park Rd.), spicy food at Rockin' Taco (1467 W. Irving Park Rd.), some artisan coffees and pastries at Julius Meinl (1414 W. Irving Park Rd.), or Asado Coffee Co. (1432 W. Irving Park Rd). Accessibility limitations at some sites. Please contact sites for more information.
1432 W. Irving Park Rd.
Chilam Balam
Featuring local and sustainable ingredients, Chilam Balam's menu items are rooted in Mexican and Mayan culture. Founded by a young chef trained by Rick Bayless, this neighborhood BYOB favorite serves unique small and large plates in its intimate lower level dining room. Accessibility limitations.
3023 N. Broadway | 773.296.6901
DMK Burger Bar
From Michael Kornick of MK fame, DMK is a trendy, upscale bar with very creative burgers. Uncommon menu items include deep fried okra & dill pickles, chili rubbed onion strings, and homemade sodas. With flat screen TVs and a full bar, DMK is a great place to grab a bite and relax.
2954 N. Sheffield Ave. | 773.360.8686
Dining on North Broadway
Some great simple dining options on Broadway include the wide range of soups at The Soup Box (2943 N. Broadway), Korean style fried chicken and other favorites at Crisp (2940 N. Broadway), and hot dogs at local favorite Flub a Dub Chubs (3021 N. Broadway). Table service and more extensive menus can be found at Thai and sushi restaurant Sura (3124 N. Broadway), Melanthios Greek Char House (3116 N. Broadway), Stella's Diner (3042 N. Broadway), and The Bagel Restaurant & Deli (3107 N. Broadway). Accessibility limitations at some sites. Please contact sites for more information.
2940 N. Broadway
Duke of Perth
Duke of Perth offers a taste of Scottish pub culture here in Chicago. With over ninety single malt whiskeys, this Scottish bar boasts the largest collection in Chicago, and is certified as a Great Whisky Bar of the World by Whisky Magazine. They also offer great fish and chips as an all you can eat special every Wednesday and Friday.
2913 N. Clark St. | 773.477.1741
Eclectic Dining on North Southport Avenue
Check out the great dining on Southport Avenue starting with Rise Sushi & Sake Lounge (3401 N. Southport Ave.), Coobah (3423 N. Southport Ave.), or Leo's Coney Island (3455 N. Southport Ave.).
3423 N. Southport Ave.
Ethnic Eats and Specialty Food Shopping on Lincoln Avenue
Try authentic Colombian food at Las Tablas Colombian Steakhouse (2942 N. Lincoln Ave) or Macondo Colombian Coffee & Empanadas (2965 N. Lincoln Ave.), Turkish food and fun at A La Turka (3134 N. Lincoln Ave.), authentic European baked goods at Dinkel's Bakery (3329 N. Lincoln Ave.), or sausages at butcher/import shop, Paulina Market (3501 N. Lincoln Ave.).
3134 N. Lincoln Ave.
Fiorentino's Cucina
The motto at Fiorentino's Cucina is "authentic Italian, simply prepared," and their Sicilian–inspired food is comfort food for the soul. The year round, climate controlled garden piazza reminds diners of an Italian village.
2901 N. Ashland Ave. | 773.244.3026
Fogo 2 Go
Combining Italian and Brazilian flavors, Fogo 2 Go sells almost 60 different types of pizza, including many styles you won't find elsewhere. Get lucky and snag one of the six spots along the counter and then watch as the chefs hand toss the pizzas and cook them in the large stone oven.
926 W. Diversey Pkwy. | 773.880.8052
Food and Drink around Belmont and Lincoln Avenues
This busy intersection offers something for everyone. Eat or drink at The Pony (1638 W. Belmont Ave.), Fizz Bar & Grill (3220 N. Lincoln Ave.), Wishbone (3300 N. Lincoln Ave), or frasca Pizzeria + Wine Bar (3358 N. Paulina St.).
3220 N. Lincoln Ave.
Food and Drink on North Sheffield Avenue
Between Diversey Avenue and Belmont Avenue you'll find great options for late night eats or a meal. Be sure to check out Panes Bread Cafe (3002 N. Sheffield Ave.), Matilda-babyAtlas (3101 N. Sheffield Ave.), Pompei (2955 N. Sheffield Ave.), Vaughan's Pub (2917 N. Sheffield Ave.), or Uncle Fatty's Rum Resort (2833 N. Sheffield Ave.). Accessibility limitations at some sites. Please contact sites for more information.
3002 N. Sheffield Ave.
Global Dining on North Clark Street
There are many great dining options on Clark Street, such as Bolat African Cuisine (3346 N. Clark St.), Yuki Hana (2920 N. Clark St.) and Andalous Moroccan Restaurant (3307 N. Clark St.). Accessibility limitations at some sites. Please contact sites for more information.
3307 N. Clark St.
High Style Asian Favorites on North Broadway
Three stylish spots on North Broadway between Aldine and Roscoe have a loyal following, including sleek BYOB sushi restaurant Wakamono (3317 N. Broadway) and its adjoining tucked away cocktail lounge Wang's, as well as the high-energy Asian restaurant Ping Pong (3322 N. Broadway).
3322 N. Broadway
La Creperie
Family owned since 1972, this casual French restaurant in a quaint bistro setting specializes in savory and sweet crepes, in the authentic "Breton" style. La Creperie also offers an impressive wine and beer selection.
2845 N. Clark St. | 773.528.9050
Lincoln Tap Room
This uniquely decorated neighborhood bar has plenty for patrons to do, including pool tables, darts, video poker, a photo booth, many large TVs and a jukebox. With many beers to choose from and drink specials everyday, it's easy to see why locals have been heading to Lincoln Tap Room for decades.
3010 N. Lincoln Ave. | 773.868.0060
Melrose Restaurant
This neighborhood staple serves up quality comfort food 24-hours a day, every day. Especially popular for their four-egg omelettes, Melrose Restaurant has a huge menu ranging from pancakes to eggplant parmesan to coconut shrimp.
3233 N. Broadway | 773.327.2060
Neighborhood Fine Dining on North Clark Street
Enjoy great preparations in a relaxed setting at Socca (3301 N. Clark St.), or dive into Italian favorites at the original location of Mia Francesca (3311 N. Clark St.).
3311 N. Clark St.
Paciugo
Food Retail: Ice Cream & Frozen Yogurt
This is the first Chicago location of a popular authentic Italian gelato shop that got its start in Texas. Paciugo rotates between over 270 flavors, from traditional chocolate and nut varieties to specialties like black pepper or orange saffron. They also offer dairy-free gelato.
3241 N. Broadway | 773.248.8433
Phoebe's Cupcakes
This small and welcoming bakery carries fresh and inexpensive cupcakes in a wide variety of flavors, from familiar vanilla and chocolate to the adventurous Salted Caramel and Maple Bacon.
3327 N. Broadway | 773.868.4000
Rocks Lakeview
The second location of the popular Rocks Lincoln Park, this cozy and stylish neighborhood bar serves up huge portions of comfort food, over 30 whiskeys, and a rotating selection of microbrew and import drafts.
3463 N. Broadway | 773.472.0493
Scooter's Frozen Custard
Championed by many as Chicago's best ice cream, everything at this independently owned ice cream shop is homemade, with an ever changing schedule of new ice cream flavors made daily. Scooter's Frozen Custard was voted the best milkshake in Chicago by TimeOut Chicago and best value for ice cream by the Chicago Tribune.
1658 W. Belmont Ave. | 773.244.6415
Select Cut Steak House
A family-owned and operated business, this steakhouse offers premium cuts of meat and seafood. Their burger was even ranked as one of Chicago's 5 best by the Chicago Tribune. In addition to ordering off the diverse menu, customers can purchase any meat on the menu at the in-house butcher shop next door.
2808 N. Halsted St. | 773.244.1500
Southport Lanes & Billiards
Home to one of only ten handset bowling alleys in America, Southport Lanes offers open bowling at night and on weekends in their small four lane room. They also have a full bar and restaurant in their 1890s building.
3325 N. Southport Ave. | 773.472.6600
Specialty Foods on Broadway
Check out the many great places along North Broadway to purchase and enjoy a variety of specialty foods, such as Pastoral Artisan Cheese, Bread & Wine (2945 N. Broadway), the original Intelligentsia Coffee & Tea (3123 N. Broadway), Bobtail Ice Cream Company (2951 N. Broadway), and House of Fine Chocolates (3109 N. Broadway).
3109 N. Broadway
The Art of Pizza
Food critics and locals agree that the Art of Pizza serves up some of the best Chicago style deep dish pizza in town. Although most of their business is takeout or delivery, diners may also eat at one of the few café-style tables in the restaurant.
3033 N. Ashland Ave. | 773.327.5600
The Coffee and Tea Exchange
Food Retail: Coffee & Tea
Since 1975 The Coffee and Tea Exchange has provided Chicago with an incredible selection of in-house-roasted coffees and teas that pair high quality with a great price. Try the coffee bar for a drink on the go! Accessibility limitations.
3311 N. Broadway | 773.528.2241
The Long Room
Recognized by Chicago magazine as one of the city's best bars, the Long Room is a long and narrow unpretentious dive bar with a large micro-beer selection. Musicians perform live most Sundays, starting at 10 pm.
1612 W. Irving Park Rd. | 773.665.4500
Trader Todd's
Often voted the best place to sing karaoke in Chicago, Trader Todd's lets you belt out your favorites every night of the week, starting at 8:30 pm. A Caribbean/beach theme permeates the restaurant, from the decor to the food to the beer garden. Accessibility limitations.
3216 N. Sheffield Ave. | 773.348.3250
Wilde
Named after Irish writer Oscar Wilde, this authentic and cozy Irish bar & restaurant more luxurious than others in the area, with dark wood, leather booths and a large fireplace. Wilde's menu extends beyond typical Irish favorites to include items like the Chile Rubbed Shrimp Grill and Edamame & Black Bean Salad; they even offer special kids and gluten-free menus.
3130 N. Broadway | 773.244.0404
Windy City Sweets
A huge independent candy store, Windy City Sweets sells just about every sweet treat imaginable from handmade specialty chocolates to hard-to-find old time favorites.
3308 N. Broadway | 773.477.6100
Yoshi's Café
Yoshi's Café is well known for their fresh, high quality and often hard to find seafood selections. Their eclectic menu combines the French and Japanese culinary traditions, creating dishes Chicagoans rave about.
3257 N. Halsted St. | 773.248.6160
bakin' & eggs
Spotlighting the incredible culinary powers of bacon, this breakfast, brunch and lunch restaurant offers specialties like a bacon waffles, flights of bacon, and many other sweet and savory items. Wash down your meal with Intelligentsia coffee products and Rare Tea Cellar teas.
3120 N. Lincoln Ave. | 773.525.7005
erwin an american cafe and bar
Open since 1994, Erwin has racked up numerous accolades. Erwin was named one of the top 10 new restaurants by Bon Appétit magazine, their global wine list has won them the Wine Spectator Award of Excellence, and now Erwin Drechsler has received the Time Out Chicago Lifetime Achievement award. Erwin is truly a unique neighborhood dining experience. In addition to their dining room, their comfortable bar offers booths that are always popular seats.
2925 N. Halsted St. | 773.528.7200
Tours
Lincoln Park, Lakeview & Wrigleyville
Plenty of shopping, dining and entertainment options make this one of the city's most popular areas among hip, young city dwellers. Discover these neighborhoods and their histories on this Chicago Neighborhood Tour.
77 E. Randolph St. | 312.742.1190 (TTY: 312.744.2947)
Chicago Cubs Wrigley Field Tours
Wrigley Field has enchanted fans for almost a century. 90-minute guided tours provide an inside look at this legendary ballpark, including the suites, press box, home and visiting clubhouses and field.
1060 W. Addison St. | 773.404.CUBS (2827)
Honor and Glory: Military Tributes
This Chicago Neighborhood Tour traces America's military history through local monuments and memorials. Learn about the role of the 'citizen soldier', and be awed by the imposing structures honoring veterans of our nation's most storied conflicts.
77 E. Randolph St. | 312.742.1190 (TTY: 312.744.2947)
Out and Proud: LGBT Chicago
Chicago is home to one of the most vibrant gay and lesbian communities in the country. Explore the heart of the city's LGBT community, Boystown, and its lively offshoot, Andersonville, with Chicago Neighborhood Tours, and discover other LGBT-oriented neighborhood attractions.
77 E. Randolph St. | 312.742.1190 (TTY: 312.744.2947)
Events
Southport Market
Vendors will be selling fresh fruits, vegetables, plants and flowers every Saturday beginning on June 23 until September 8 at the Southport Market.
Free Admission | 1420 W. Grace St.
History
Native Americans still camped along the Chicago River when the first settler came to Lakeview. Conrad Sulzer arrived in Lakeview East in 1837 and became the first assessor of the old Lakeview township in 1857. Today, the Conrad Sulzer Regional Library is named in his honor.
The name "Lakeview" probably came from the Hotel Lakeview, which was built on the shores of Lake Michigan in 1853. The hotel was known for its scenic views of the lake, and hotel patron Walter L. Newberry suggested that the neighboring community adopt the hotel's descriptive name. The town of Lakeview was incorporated in 1887, but it was annexed during Chicago's real estate boom just two years later.
In its early days, parts of Lakeview were a farming region known as the "Celery Capital of the World." Today, the area is a multicultural neighborhood with its own unique style. On the streets of Lakeview, you'll find traditional Chicago-style hot dogs and authentic Thai restaurants, small boutiques and major retailers, and the famous Briar Street Theater and smaller repertory companies. Lakefront parks offer a variety of outdoor activities. Central Lakeview is also the site of Wrigley Field, home to the Chicago Cubs and a revered mecca for pro baseball fans.
Pricing
It is a very youthful neighborhood, with many residents under the age of 30, because housing is cheaper overall than in neighborhoods closer to the Loop. However, its four-mile proximity to the Loop makes it a desirable real estate location.
Home prices in Lakeview range from $224,000 to more than $1.2 million. Homes styles vary greatly, from cottages and single-family homes to mansions and high-rise condominiums.
Location & Area
The Ravenswood El Red, Purple, and Brown lines stop at Sheridan, Sheffield, Southport, Addison, Belmont, Wellington, and Diversey, and CTA buses run on Sheridan, Halsted, Clark, Belmont, Lincoln, Diversey, and Addison.
North Boundary: 4000 N Irving Park
South Boundary: 2800 N Diversity
East Boundary: ~200 W Lake Michigan
West Boundary: ~2400 W Chicago River
Primary Zip Code: 60657
Current Trends and Facts of Lakeview Chicago
Lakeview is found on Lake Michigan's shoreline, giving Lakeview neighborhood residents many opportunities for boating, jogging, volleyball, golfing, skating, biking, fishing and more. In Lakeview, you can find scores of sports bars, especially near Wrigley Field, where you might catch a few games. For cultural endeavors, you can walk to Lakeview's many restaurants, small theaters, intimate concert venues, galleries, and nightclubs. Lakeview also offers some of the most diverse shopping in the city.