Lake View is one of the city's most livable and walkable areas. It is home to many smaller neighborhoods, including Lakeshore East, West Lakeview, Roscoe Village, Graceland West, Southeast Ravenswood, Belmont Harbor and Wrigleyville, home of the Chicago Cubs. Lakeview neighborhood residents enjoy the charm and beauty of tree-lined streets and Lake Michigan, just minutes from the bustle of downtown Chicago, a short commute on Lake Shore Drive.
Located just north of downtown Chicago, the area known as Lake View is surrounded by gleaming skyscrapers and the shimmering waters of Lake Michigan. The community is roughly bordered by Grace Street to the north, Diversey Avenue to the south, Lake Michigan on the east and Racine Avenue on the west.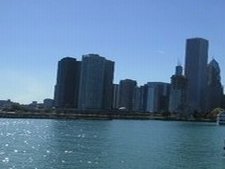 Lakeview's two neighborhoods — Central Lakeview and Lakeview East — are home to more than 65,000 residents who enjoy a unique blend of retail areas, restaurants, affordable housing, and recreational activities. The community is located near Chicago's "Off-Loop" theater, fashionable shopping districts and world-class entertainment venues. The real estate market offers something for everyone, with both traditional and innovative architectural designs.
Students in Lakeview attend classes in Chicago Public Schools, the third-largest school system in the United States and second-largest employer in Illinois.
Wrigley Field
Wrigley Field, home of the Chicago Cubs, is also located here, and a section of the neighborhood is named after it. The numerous bars and restaurants are always packed, especially during baseball season, when thousands of fans are fed and entertained. Lakeview's Wrigleyville neighborhood is bounded by Halsted, Ashland, Roscoe, and Byron. On the east side alone, there are over 600 retail stores, and Diversey, Clark, Halsted, and Broadway have seen significant commercial development. The gay district of Chicago is located in Lakeview East, also known as "Boy's Town." Alternative lifestyles are celebrated and embraced by the diverse population.
Shopping
The nice surprise of Lakeview and Wrigleyville is that once you walk 20 steps away from the main shopping, restaurant, and bar/club areas, you'll find yourself in beautifully maintained tree-lined streets with rows of delightful houses in all fashion of architectural styles, ages ranging from nearly a century to 3 days ago. This is most likely the other main reason for the area's prominence; one can buy or rent a beautiful house on a beautiful street, then walk 5 minutes to one of the city's most popular shopping/nightlife districts.
History
Native Americans still camped along the Chicago River when the first settler came to Lakeview. Conrad Sulzer arrived in Lakeview East in 1837 and became the first assessor of the old Lakeview township in 1857. Today, the Conrad Sulzer Regional Library is named in his honor.
The name "Lakeview" probably came from the Hotel Lakeview, which was built on the shores of Lake Michigan in 1853. The hotel was known for its scenic views of the lake, and hotel patron Walter L. Newberry suggested that the neighboring community adopt the hotel's descriptive name. The town of Lakeview was incorporated in 1887, but it was annexed during Chicago's real estate boom just two years later.
In its early days, parts of Lakeview were a farming region known as the "Celery Capital of the World." Today, the area is a multicultural neighborhood with its own unique style. On the streets of Lakeview, you'll find traditional Chicago-style hot dogs and authentic Thai restaurants, small boutiques and major retailers, and the famous Briar Street Theater and smaller repertory companies. Lakefront parks offer a variety of outdoor activities. Central Lakeview is also the site of Wrigley Field, home to the Chicago Cubs and a revered mecca for pro baseball fans.
Pricing
It is a very youthful neighborhood, with many residents under the age of 30, because housing is cheaper overall than in neighborhoods closer to the Loop. However, its four-mile proximity to the Loop makes it a desirable real estate location.
Home prices in Lakeview range from $224,000 to more than $1.2 million. Homes styles vary greatly, from cottages and single-family homes to mansions and high-rise condominiums.
Location & Area
The Ravenswood El Red, Purple, and Brown lines stop at Sheridan, Sheffield, Southport, Addison, Belmont, Wellington, and Diversey, and CTA buses run on Sheridan, Halsted, Clark, Belmont, Lincoln, Diversey, and Addison.
North Boundary: 4000 N Irving Park
South Boundary: 2800 N Diversity
East Boundary: ~200 W Lake Michigan
West Boundary: ~2400 W Chicago River
Primary Zip Code: 60657
Current Trends and Facts of Lakeview Chicago
Lakeview is found on Lake Michigan's shoreline, giving Lakeview neighborhood residents many opportunities for boating, jogging, volleyball, golfing, skating, biking, fishing and more. In Lakeview, you can find scores of sports bars, especially near Wrigley Field, where you might catch a few games. For cultural endeavors, you can walk to Lakeview's many restaurants, small theaters, intimate concert venues, galleries, and nightclubs. Lakeview also offers some of the most diverse shopping in the city.