Located just minutes northwest of the Windy City, Arlington Heights is home to more than 76,000 residents. This popular suburb has excellent schools and a thriving business community. The refurbished Central Business District boasts new restaurants, galleries, clothing stores, and jewelry shops. A teen center and senior center offer cultural and recreational attractions for the city's diverse population. Arlington Heights' convenient location provides easy access to public transportation, from bike paths and buses to the Metra subway system and Chicago Transit Authority trains.
Education
Elementary school students in Arlington Heights attend schools in Districts 59, 25, 23, 21 or 15. High school students are served by Township High School District 214, which prepares its students for life after graduation by providing hands-on experience. Students participate in community service projects ranging from food drives and tutoring to building homes for Habitat for Humanity. Alternative schools also are available to meet the needs of the district's diverse student body.
Many colleges and universities are located throughout the Chicago metro area, including DePaul University, Chicago State University, the University of Illinois at Chicago, Harper College, Roosevelt University and the American Academy of Art.
History
In 1845, William Dunton settled on the land that would become Arlington Heights. A schoolhouse was erected in 1849, and the town grew rapidly in the following decade with the arrival of the railroad. In 1872, Frederick Muller opened a soda water factory, and the village of Arlington Heights was incorporated 15 years later. Residents continued to move to the area during the early 20th century, and by 1950, thousands of homes were built to accommodate a post-war boom of new and returning residents. By 1960, Arlington Heights was the fastest-growing city in the state, with a population of more than 27,000. This growth has continued, and today Arlington Heights remains a thriving community.
Pricing
The real estate market of this upscale suburb is surprisingly diverse. Condominiums and townhouses are available from the mid-$100,000s to $400,000 and more. Single-family detached homes are available in a variety of styles, including ranch, Cape Cod and bungalow. Homes in neighborhoods such as Scarsdale, Virginia Terrace and Westgate are available from the mid-$200,000s. Large Victorian, Georgian or Colonial-style estate properties in Arlington Acres, Briars of Brittany and Scarsdale Estates are available for $750,000 and more. Prices for some homes exceed $1 million. Land and lots for custom development are limited.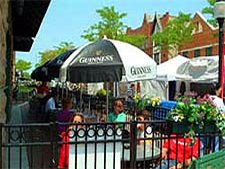 Recreation
The Arlington Heights Park District offers a variety of facilities for residents' enjoyment. The 35-acre Melas Park features soccer and softball fields, sand volleyball courts, and the district's largest playground. Festival Park is less than an acre, but the charming facility has a gazebo, playground, and picnic tables. An 18-hole golf course can be found at Arlington Lakes Golf Club, and other amenities include fitness centers, tennis clubs, arboretums, and gardens.
The city also has many historical and educational attractions. The Arlington Heights Historical Museum complex, which is located on the site of Muller's soda water factory, includes Muller's Victorian-era home, a coach house and a replica of a 1830s log cabin. The Arlington Heights Memorial Library also provides a wide range of programs for kids, adults and seniors.