On the lakefront just south of the Loop are three of the world's finest museums: the Field Museum of Natural History, Shedd Aquarium and Adler Planetarium, in an area known as the Museum Campus. With enough hands-on activities and exhibitions for a week's worth of discovery, the Museum Campus is an opportunity for visitors of all ages to explore the natural world up-close. Highlights include 'Sue', the world's largest and most complete Tyrannosaurus Rex skeleton ever found, at the Field Museum; face-to-face encounters with sharks and other awesome creatures of the deep at the Shedd Aquarium; and a popular Sky Show and other interactive exhibits that bring outer space close enough to touch at the Adler Planetarium.
The Museum Campus is also home to another famous tenant, Soldier Field, the iconic home of the Chicago Bears football team, and the oldest active stadium in the National Football League. Soldier Field also happens to be an award-winning green roof, with all 9 acres of the stadium and its landscaped surroundings built atop more than 2,500 parking spaces in an underground garage.
12th Street Beach
Free Admission | 1200 S. Lake Shore Drive | 312-742-5121
Located on Northerly Island, along the shoreline of Burnham Park, the 12th Street Beach dates to the 1920's. In 1909, renowned architect Daniel Burnham envisioned a new park composed of several man-made islands between Jackson Park and Grant Park. Northerly Island was the only island that was actually built. The South Park Commission began creating Northerly Island in 1920. The island is completely made from landfill, and later it was converted into a peninsula. By 1927, nearly the entire island was filled in. The Commercial Air Craft Association requested permission to use the island as a temporary landing strip. Shortly thereafter, a group of women's organizations suggested the creation of a public bathing beach instead of a landing field. The commissioners agreed, and created 12th Street Beach.
In 1933 and 1934, Northerly Island and Burnham Park served as the site of Chicago's second World's Fair entitled A Century of Progress. In preparation for the fair, the commissioners greatly increased the size of the island. The Alder Planetarium opened on the island in time for the fair. It is one of the few structures that remained open after the fair. By the 1940's, in addition to the public beach, Northerly Island also offered paths, walkways, scattered trees, and grassy open spaces. In 1948, a small airport called Meigs Field opened, but this site was eventually closed in 2003. The following year, after a new initiative called for the replacement of outdated facilities on the lakefront, a new beach house was constructed at 12th Street. Other improvements have been made to Northerly Island in recent years. Today, the island is an excellent place to explore nature with its nature center and bird sanctuary and hospital.
Adler Planetarium
1300 S. Lake Shore Dr. Chicago, IL 60605
The Adler Planetarium, America's first planetarium, features three full-size theaters, and houses one of the world's most important antique instrument collections. The Adler is a recognized leader in science education, with a focus on inspiring young people to pursue careers in science.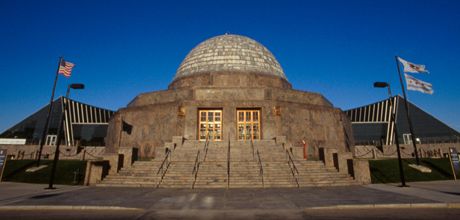 Following its 75th anniversary, the Adler began a transformation to become the world's leading space science center and inspire the next generation of explorers by sharing the personal stories of human space exploration and America's space heroes.
The museum is home to one of the world's most important antique astronomical instrument collections, as well as three full-size theaters, including the including the all-digital projection Definiti® Space Theater, Universe 3D Theater and the Grainger Sky Theater, which was reopened in July 2011 after a year-long, $14 million renovation.  The world's most technology advanced theater offers a stunning, 360-degree immersive experience of being in outer space, surrounding viewers with ultra high-definition images of planets, galaxies and other cosmic wonders on its new 8,000 x 8,000 pixel screen.
The Adler is a recognized leader in science education, with a focus on inspiring young people to pursue careers in science.
Hours:
Monday – Friday: 10 am – 4 pm
Saturday – Sunday: 10 am – 4:30 pm
Closed Thanksgiving and December 25
Extended hours Memorial Day – Labor Day
Admission: General admission $10 – $6
Field Museum of Natural History
1400 S. Lake Shore Drive, Chicago, IL 60605
If you are looking for dinosaurs, this is the place! The Field Museum is home to Sue, the world's largest and most famous T. Rex, and Evolving Planet, featuring an expanded dinosaur hall. Explore the Ice Age, or life in the Aztec empire, among other exhibits that are guaranteed fun for all ages.
In one museum with millions of adventures, embark on a journey the whole family will enjoy. Come face to face with Sue, the world-famous T. Rex, and learn about the Age of the Dinosaurs, when prehistoric giants like Sue ruled the Earth 67 million years ago.
Explore the ocean floor of an ancient Cambrian sea in Evolving Planet, when arthropods, sponges and mollusks populated these shallow waters. See, hear and smell the swampy forest that was Chicago 300 million years ago and meet the dinosaurs that roamed the land where we now live.
Step into the windswept world of Ice-Age mammoth hunters as you walk through an 800-year-old pueblo in Ancient Americas. Experience what it was like cooking, eating and sleeping with your family in one small room. Then immerse yourself in Tenochtitlan, the island capital of the Aztec empire, and discover what it took to build this awe-inspiring empire.
There's even a place specially suited for your little Museum explorers! In the Crown Family PlayLab, pint-sized scientists can dig up dinosaur bones, harvest corn, play in a Pueblo, feel the rhythms of instruments from around the world and play the part of a woodland creature as they crawl, hop and fly – all in a place just for kids!
Hours: Daily 9 am – 5 pm; Last admission at 4 pm. Open every day except Christmas.
Admission:
General admission: adults $15; children $10; students and seniors $12; children under 3 free *Special exhibitions require an additional fee.
Northerly Island
1400 S. Lynn White Dr. | 312.742.PLAY (7529)
At the heart of the Museum Campus, Northerly Island sits on a 91-acre peninsula. Most of this space is dedicated to nature and features strolling paths, play areas, an amazing view of the Chicago Skyline, and some of the best fishing in Chicago. Also located here is the Charter One Pavilion, a popular concert venue.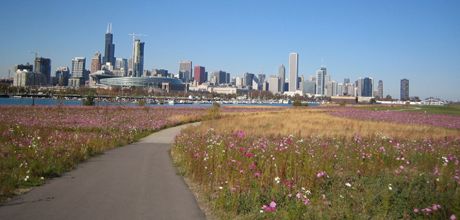 Given its proximity to Lake Michigan the site is a popular spot for migratory and resident birds including warblers, sparrows, dicksissels, eastern kingbirds, killdeer, kestrels, and owls. A coyote has also been spotted roaming behind the concert venue at the northern end of Northerly Island. The prairie was burned for the first time in spring 2007 to manage invasive plants and encourage native prairie grasses and forbs. In the fall of 2007, the Chicago Park District installed over 300 shrubs native to Illinois such as downy serviceberry, hazelnut, nannyberry viburnum, and sumac to enhance bird habitat at the site. In 2008, a new purple martin house and kestral box were installed to provide homes for these feathered friends.
During the winter and early spring (November – April), the Northerly Island fieldhouse is open on Saturdays and Sundays, from 10 am to 4 pm. The rest of the year, the fieldhouse is open daily, from 9am to 5pm. When the fieldhouse is open, staff is available to answer questions about the island and provide information on a discovery tour.
Sitting on the northern end of the island is the Charter One Pavilion, a temporary, yet state-of-the-art concert venue. The 7,500 seat pavilion hosts concerts from some of today's most popular artists along with family matinee events.
Shedd Aquarium
1200 S. Lake Shore Dr, Chicago, IL 60605
The John G. Shedd Aquarium, a nonprofit institution dedicated to public education and conservation, is among the world's largest indoor aquariums. The facility houses more than 32,600 aquatic animals representing some 1,500 species of fishes, reptiles, amphibians, invertebrates, birds and mammals from waters around the world.
Beautifully situated on the shores of Lake Michigan, Shedd Aquarium is known as "The World's Aquarium."
Since its opening in 1930, the aquarium's mission has been to enhance public understanding and appreciation of the aquatic world. Today, this educational goal has gained urgency as more species acquire endangered status. Shedd Aquarium is committed to a number of projects designed to preserve threatened or endangered aquatic species.
The reimagined Oceanarium, a world-class marine mammal pavilion, is now open! Come and visit with the beluga whales, dolphins, sea otters, sea lions and penguins, and be among the first to experience new exhibits like Polar Play Zone and the Grainger Beluga Encounter Habitat.
Hours:
Summer Hours (Memorial Day to Labor Day): Daily 9am – 6pm.
Regular Hours: (Labor Day to Memorial Day): Weekdays, 9am– 5pm; Weekends, 9am– 6pm.
Admission:
Shedd Pass: $24.95; $21.95 Seniors (65+) and Children (3-11yrs.) Upgrade to 4-D Theater Experience for $4.
Residents of the city of Chicago receive $3 discount on admission every day (must present valid ID).
Soldier Field: Chicago Bears
1410 S Museum Campus Dr, Soldier Field | 847.615.BEAR (2327)
One of the world's most storied professional sports franchises, the Chicago Bears were established in 1920 as George Halas founded professional football. The franchise has won nine world championships. The team has participated in the playoffs 23 times, and sent 26 players, one coach, and one general manager to the Pro Football Hall of Fame, the most of any team.
Tours
Gray Line Bus Tours: The Grand Tour
A comprehensive 4-hour bus tour of highlights, including stops in neighborhoods in the North and South sides of the city.
17 E. Monroe | 312.251.3100
Gray Line Bus Tours: Trolley and Upper Decker Tours
Enjoy a scenic tour of Chicago's lakefront and downtown aboard Grayline's Trolley buses and New Upper Deckers.
17 E. Monroe St. | 312.251.3100