#1 – Magnificent Mile
Chicago's largest shopping district, this strip of retail stores, restaurants, museums and hotels that extends from the Chicago River to Oak Street is more than just a shopper's dream. Some worthwhile stops along the way include the Historic Water Tower, Water Tower Place Mall, Museum of Contemporary Art, John Hancock and the Hershey store.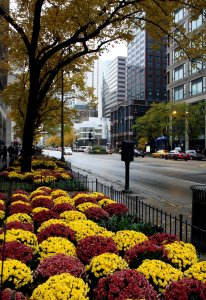 Neighborhood: Magnificent Mile
Home to the famous 150 foot-high Ferris Wheel, the Shakespeare Theater, Children's Museum, IMAX theater, and much more, Navy Pier is a great place to bring your kids, or to rediscover the kid in you. Check out the amazing free firework display every Wednesday at 9:30 pm and Saturday at 10:15 pm through Labor Day weekend.
Neighborhood: Streeterville
Hours: Sun – Thu: 10am-10pm
Fri & Sat: 10am-Midnight
#3 – Willis Tower
(formally named Sears Tower)
Soaring above the amazing Chicago skyline, Willis Tower stands 1,450 feet high, making it the tallest building in the Western Hemisphere. The newly renovated Skydeck, which features The Ledge – a glass box, extending 4.3 feet from the Skydeck – is a must-see for all those brave enough to venture over the edge.
Neighborhood: Loop
Hours: Open Daily: 9am-10pm
#4 – Millennium Park
Completed in 2004, this park, located in the corner of Grant Park, is far from ordinary. The most notable attractions include Cloud Gate, Crown Fountain, Jay Pritzker Pavilion and Lurie Garden. It is a great place to wander around, and to take in the beauty of Chicago.
Neighborhood: Millennium Park
#5 – Buckingham Fountain
Located in the center of Grant Park, this amazing fountain, one of the largest in the world, is a true cascading work of art. Make sure to stop by on the hour everyday from 10am to 10pm to enjoy its water, light, and music show.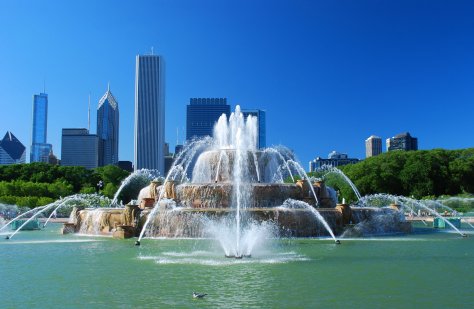 Neighborhood: Grant Park
Hours: Open Daily: 10am-10pm
#6 – Art Institute of Chicago
Located in Grant Park, the Art Institute boasts such classic pieces as Nighthawks and American Gothic. The sheer size of the museum and the number of diverse collections can be a little intimidating, so remember to focus on the art that really speaks to you, and wear comfortable shoes.
Neighborhood : Loop
Hours:  Mon-Wed:10:30am-5pm
Thu: 10:30am-8pm
Fri-Sun: 10:30am-5pm
#7 – Lake Michigan
Easily the most beautiful attraction in Chicago, Lake Michigan offers visitors a mesmerizing view, and vibrant lakefront. From segway tours to sandcastle building, Lake Michigan is a must-see when in Chicago.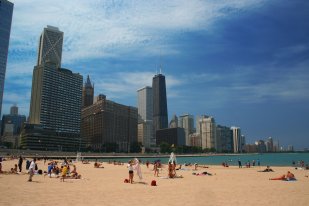 #8 – Lincoln Park Zoo
Home to big cats, polar bears, penguins, gorillas, monkeys, and many more species, this zoo, located in Lincoln Park, makes you forget you are in the heart of Chicago, and transports you into the wild. Lincoln Park Zoo is such a great destination because it is open every day, it is free, and it is a very manageable size for an afternoon visit.
Neighborhood:  Lincoln Park
Hours:  Mon-Fri: 10am-5pm
Sat & Sun: 10am-6:30pm
#9 – Theater
From the rise of Second City and its improv-based sketch comedy to the loud and rowdy blue men in Blue Man Group, Chicago has really become a city of theatrical performance. Home to over 200 theaters, you are sure to find a show, on any given night, that's unforgettable.
#10 – Architecture
Beginning in the late 1800s, Chicago began its emergence as a true city of architecture. This development began with tragedy when the Chicago Fire destroyed most of the original buildings downtown. Chicago architects took that opportunity to innovate and create true works-of-art. Many of these amazing buildings still reside downtown, along with new modern, sleek and innovative skyscrapers. A great way to discover the majestic beauty and history of these buildings is by taking an architectural walking, boat or bus tour.